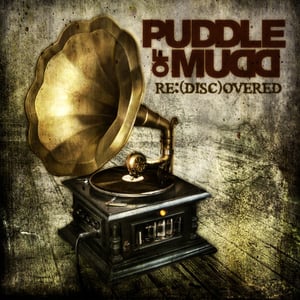 $

12.98 - On Sale
After four albums, platinum-plus sales, sold-out crowds and more than a dozen radio hits, Puddle of Mudd has cemented its reputation and its repertoire in the rock 'n' roll world. It's the proverbial force to be reckoned with, possessing the kind of track record - think 'Blurry,' 'Drift & Die,' 'She Hates Me,' 'Away From Me' and 'Psycho' for starters - most bands would be proud to have over an entire career. Rest assured it's been a good time, but now Puddle of Mudd wants to
have some fun.
Re:(disc)overed is an entirely different kind of endeavor for the group, which has been churning out its own material since Wesley Scantlin formed the band nearly 20 years ago in Kansas City, MO. This time the Mudd men have put down their pens in favor of recording 11 of their favorite rock songs of all time - classics by the Rolling Stones, Led Zeppelin, the Steve Miller Band, AC/DC, Elton John and many others. Some are perfectly in character; others are surprising.
But ultimately Re:(disc)overed is Puddle of Mudd getting to both show and explore some different sides of its musical makeup.
''When we were on the road last time we had been playing (AC/DC's) 'TNT' and (Miller's) 'The Joker' and 'War Pigs' by Black Sabbath and 'Summer Lovin' from the Grease soundtrack - just kind of bouncing around, doing covers,'' Scantlin says. ''We never put any cover songs on our records before, so it just seemed like something fun to do. Plus they're all hit songs, all timeless songs. Who wouldn't want to make a record like that?''
*Includes two bonus tracks not available on the U.S. version! "Cocaine" and " A Little Help From My Friends"